Recap Cardcaptor Sakura
A 70-episode anime television series adaptation produced by the animation studio Madhouse aired in Japan on the NHK television network spread over three seasons.
Cardcaptor Sakura takes place in the fictional Japanese city of Tomoeda which is somewhere near Tokyo. Ten-year-old Sakura Kinomoto accidentally releases a set of magical cards known as Clow Cards from a book in her basement created and named after the sorcerer Clow Reed. Each card has its own unique ability and can assume an alternate form when activated. The guardian of the cards, Cerberus, emerges from the book and chooses Sakura to retrieve the missing cards. As she finds each card, she battles its magical personification and defeats it by sealing it away. Cerberus acts as her guide, while her best friend and second cousin, Tomoyo Daidouji films her exploits and provides her with battle costumes.Cardcaptor Sakura was one of the greatest magical girl anime around for those of us old enough to remember  it (Magical girl (Japanese: 魔法 少女 Hepburn: mahō shōjo) is a subgenre of Japanese fantasy anime and manga which features girls who use magic.)
Nelvana licensed Cardcaptor Sakura in North America, dubbed the series into English with Ocean Studios featuring Carly McKillip as Sakura, and released it under the name Cardcaptors. this is the version anyone who saw it in North America would remember   and although many fans of the show are old and overall the hill now I still jumped for joy when I head of a series revival in the form of  Cardcaptor Sakura: Clear Card!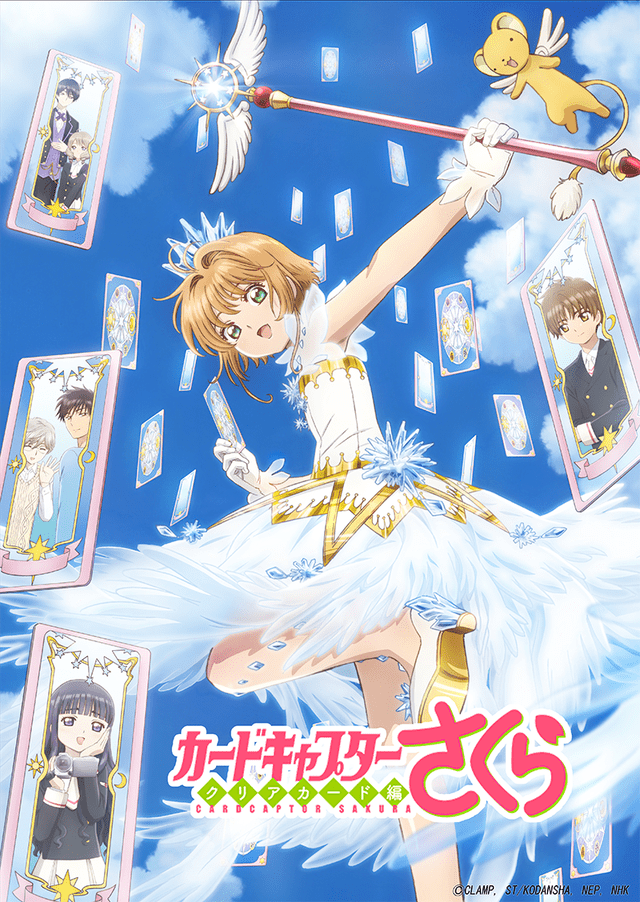 "Cardcaptor Sakura: Clear Card starts at the point where Cardcaptor Sakura ends, when Sakura Kinomoto starts junior high school alongside her friends, including her new boyfriend Syaoran, who had just returned to Tomoeda. After having a prophetic dream about a mysterious cloaked figure, all of the Sakura Cards turn blank and are rendered completely powerless, thus starting her quest to find out what is wrong. In doing so, Sakura and her friends, along with her guardians and protectors Cerberus and Yue, discover and capture the transparent cards using a new and much stronger mystical key and incantation."
Funimation has announced plans to present an English dub of the anime on their FunimationNow service. The series following everyone's favorite Clow Card hunter in her junior high years is also coming to Crunchyroll is January.
The Offical trailer is below